The Fit Station has partnered with Attractions to help local schools, churches, and civic organizations meet their fundraising goals.
Purchase your copy of the Attractions Dining and Value Guide today to receive this coupon from The Fit Station: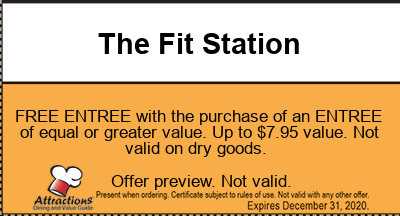 FREE ENTREE with the purchase of an ENTREE of equal or greater value. Up to $7.95 value. Not valid on dry goods.
---
3121 Kathleen Ave
FRIENDLY CENTER
Greensboro, NC
336-294-5524
View this restaurant's
website
Additional Locations:
4835-125 W. Wendover Ave
Jamestown, NC
336-285-7330
3142 Waltham BLVD
Burlington, NC
336-584-2988
1941 New Garden Rd. Suite 106
Greensboro, NC
336-763-1802
1256 South Stratford Rd.
Winston-Salem, NC
336-893-9735
Look for valuable coupons valid at The Fit Station and other restaurants and retailers in Jamestown, NC, in the Attractions Dining and Value Guide!
Fundraise with the best! Your group can sell the community fundraiser, the Attractions Coupon Book, supported by Fit Station, The.